Wisdom Wednesday: It's not an option, it's a necessity: Equipping young children to be antiracist citizens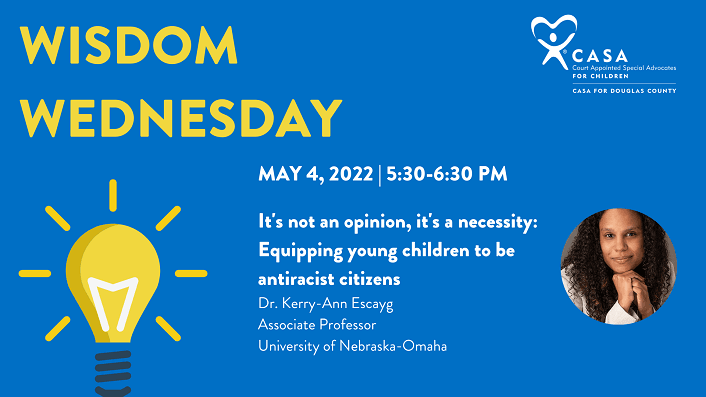 In this interactive, multimodal workshop, we will explore research-based strategies for discussing race, anti-racism, and racism with young children. Using an anti-racist lens, we will explore how anti-racism parenting and pedagogy can support children's agency, activism, and social-emotional skills.
Learning Objectives
In this Zoom presentation, advocates will learn about:
• Theoretical and empirical perspectives on children and race
• Anti-racism as it applies to young children
• Strategies for developing and implementing anti-racist teaching and parenting with preschoolers
Participants will receive 1 hour of continuing education credit.
Biography:
Dr. Kerry-Ann Escayg is an Associate Professor of Early Childhood Education at the University of Nebraska-Omaha. Her primary research interests are anti-racism in early childhood education, children and race, and qualitative research with children.
Questions?
Giovanni Consolino, Training Coordinator
gconsolino@casaomaha.org | 402-320-3304