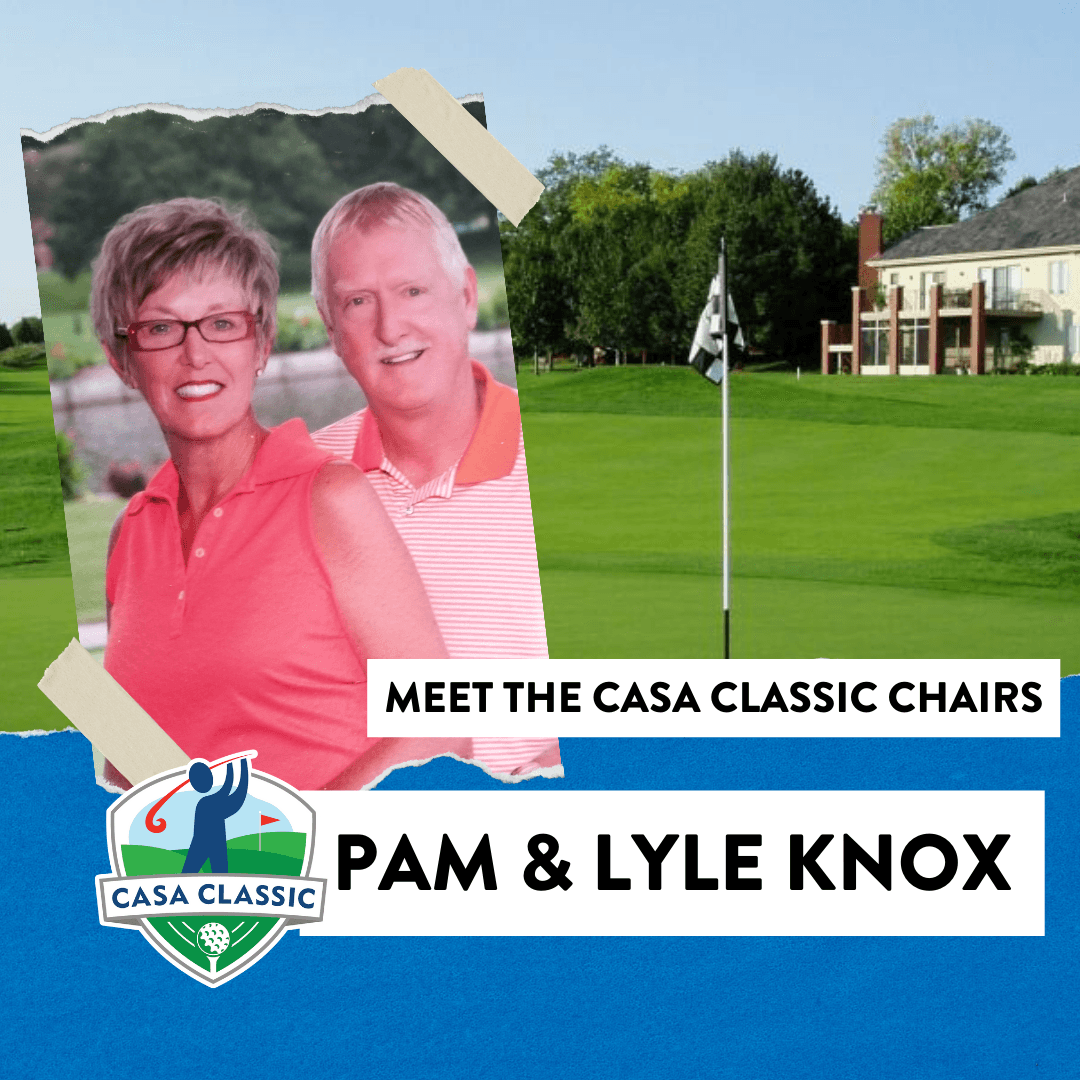 CASA for Douglas County is excited to announce Pam & Lyle Knox as the 3rd Annual CASA Classic chairs!
Lyle Knox was born in Tecumseh, NE, and later moved to Wahoo where he graduated from Wahoo High School. He graduated from Nebraska Wesleyan University as a math major and married his wife Pam, who graduated from Wahoo Neumann High School. His professional career began at Bankers Life Nebraska (now Ameritas) where he held a variety of IT-related positions. He and his family then moved to Omaha when he accepted a position with ACI Worldwide in 1983. He held a variety of executive positions with ACIWW and later, Financial Transmission Network, Inc., where both companies offered electronic payment solutions to banks and retailers.
Pam graduated from the University of Nebraska - Lincoln and began her teaching career spanning 36 years. She taught Kindergarten, 1st, and 2nd grades at Elmwood Ne. and Millard Public Schools. Pam & Lyle remain in Omaha, as do their 2 adult children.
Lyle and Pam enjoy bicycling and golfing with friends at Oak Hills Country Club where Lyle was elected president of the Board of Directors in the 1990s.
Welcome, Pam & Lyle!
-
Plans are underway for the 3rd Annual CASA Classic golf tournament on August 28, 2023. Through sponsorships and foursome registrations, CASA was able to raise over $30,000. With your help, we can meet our goal of raising $50,000 and becoming champions to children in foster care.
Join Pam & Lyle and support CASA for Douglas County as we take a swing at providing a CASA Volunteer for every child impacted by the Child Welfare System who is in need of consistent support. Sponsorships will open soon, so stay tuned for the announcement.
Questions? Call Jordan Fletcher at (402) 932-5683 Ext. 117 or email casaclassic@casaomaha.org.