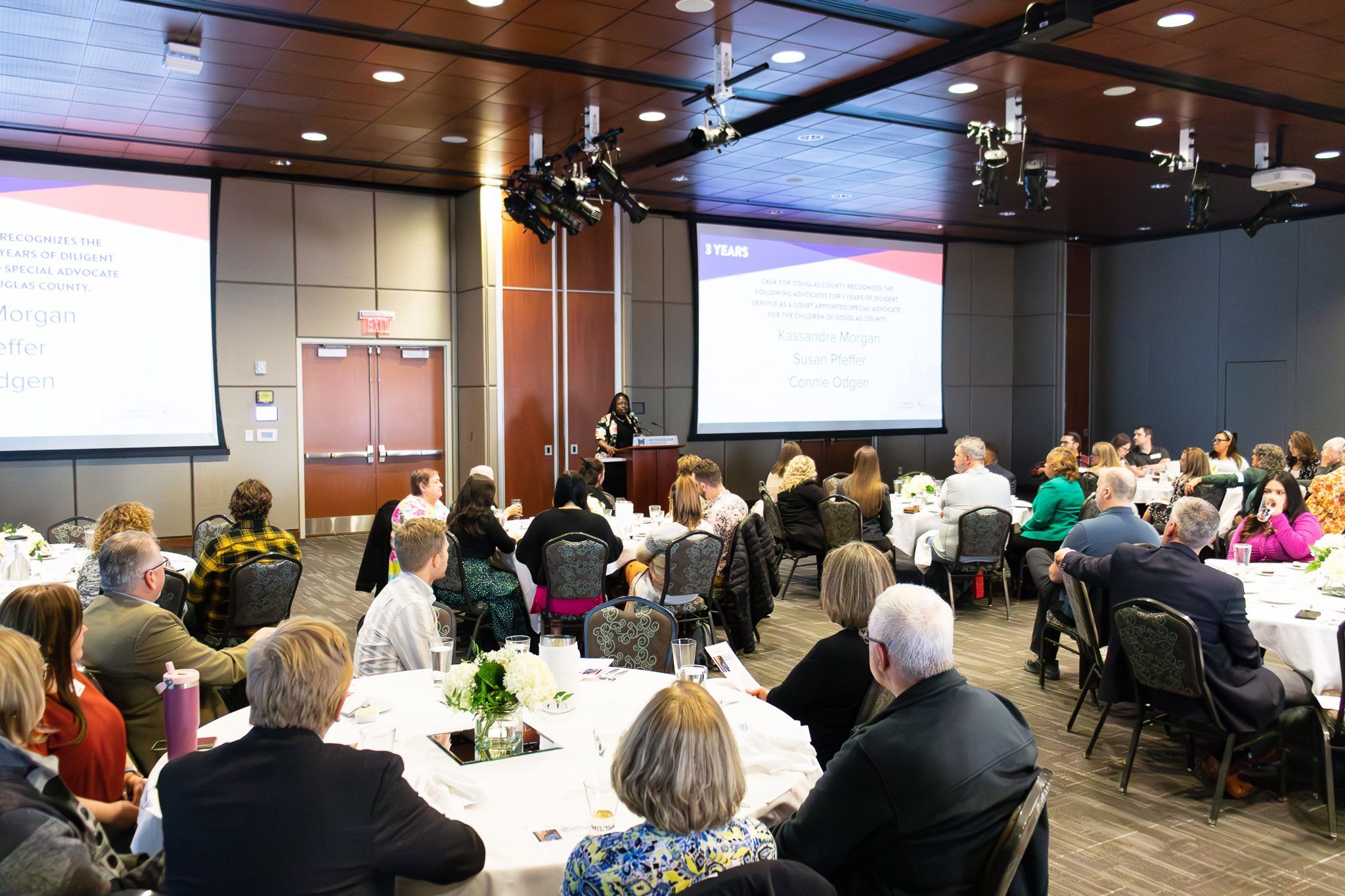 In Douglas County, CASAs have been making a significant impact on the lives of children for over 25 years. CASA Volunteer Advocates are dedicated and passionate about the work they do. They are experts that go above and beyond every day to make sure a child's voice is amplified in court.
One of the things that sets CASA apart from other organizations is their commitment to providing individualized attention to each child they serve. By working closely with the child, their family, and the professionals involved in their case, CASA Volunteer Advocates are able to identify the child's specific needs and advocate for them effectively.
Volunteer Appreciation Dinner 2023
On April 20th, 2023, CASA for Douglas County hosted the first Volunteer Appreciation Dinner to recognize and thank the many Volunteer Advocates who give their time, energy, and heart to serving children involved in the child welfare system in our community.
This year's dinner was held at the Metropolitan Community College North Campus, and it featured a delicious meal created by the culinary students. Guest speaker Racquel Henderson spoke about the importance of reunification for youth and the impact Volunteer Advocates can have on the whole family. Volunteer Advocates have the opportunity to "reach back and pull someone else up" a quote from Denzel Washington that Raquel has incorporated into her life after her own experience with the child welfare system.
In addition to recognizing the Volunteer Advocates during the dinner, two specific awards were presented. CASA for Douglas County was honored to present Kelli Eastman with the CASA for Douglas County Teamwork 2023 Award and Barb Schoemaker with the CASA for Douglas County CASA of the Year 2023 Award.
Kelli Eastman, the recipient of the CASA for Douglas County Teamwork Award, has been a Volunteer Advocate for 3 ½ years. During Kelli's three years at CASA for Douglas County she has served on 5 cases. One of Kelli's biggest strengths is her dedication to working as a team. Kelli believes in being a team player, and through her active communication style she works hard at ensuring that the children and family's needs are being met. Kelli has scheduled and led team meetings, to make sure that all parties are on the same page about a case. Through collaboration she is able to understand the needs of the children she serves and help find resources to meet their needs. Kelli will aid in any permanency objective and ensure that her children, foster families, and biological families have the services they need. Kelli speaks in court about how the kids are doing, and thoughtfully provides updates. Kelli's commitment to the CASA for Douglas County Program continues to be an inspiration.
Barb Shoemaker, the recipient of CASA for Douglas County CASA of the Year 2023 Award, has been a Volunteer Advocate for nearly 15 years. This Volunteer Advocate has been assigned to 6 cases during her time at CASA for Douglas County and is currently assigned to 2. Barb displays the core value of innovation. She always goes above and beyond on her case. Barb has the energy of a first-year volunteer and all the experience of the 14 years she has served. She understands her role as a volunteer Advocate and leverages her role to make sure the children she is assigned always have what they need. She believes there is a solution to every problem. Barb and her supervisor speak several times a week, not because she is not capable of working her cases independently, but because they are often brainstorming creative ways to approach and solve challenges that arrive in her case.
CASA understands that the work of a Volunteer Advocate can be challenging and emotionally taxing, which is why recognizing and supporting the Volunteer Advocates is essential to ensure they are able to fulfill their roles effectively and sustainably. The Volunteer Appreciation Dinner is just one way that CASA shows their appreciation for the tireless efforts of these incredible Volunteer Advocates.
The impact of CASA's work is clear. Children who have a CASA volunteer have the support of the community behind them. CASA for Douglas County is a critical resource for children in the child welfare system, and their Volunteer Advocates are truly making a difference in the lives of these children.
To all the CASA Volunteer Advocates in Douglas County, thank you for your selfless service to our community. Your work is truly appreciated!