Supporting Youth with an Individualized Education Plan (IEP)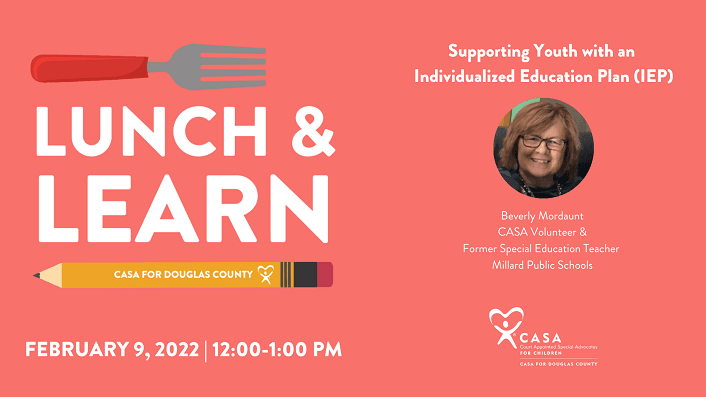 This virtual training opportunity will focus on the needs of youth with an Individualized Education Plan (IEP). Advocates will learn the process of how youth are eligible for an IEP and how to support youth and their families.
Learning Objectives
In this Zoom presentation, advocates will learn:
- The purpose of an IEP
- Parent rights in regard to the IEP
- How to advocate for children with an IEP
Participants will receive 1 hour of continuing education credit.
Biography
Beverly Mordaunt is a CASA Advocate and former Special Education Teacher with Millard Public Schools for the last 35 years. She retired in May, 2021. She has experience in education for 45 years total. She graduated with a B.S. in Education from Ball State University and a Masters in Education from the University of Illinois.
Questions?
Giovanni Consolino, Training Coordinator
gconsolino@casaomaha.org | 402-320-3304