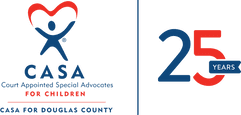 For the past 25 years, CASA (Court Appointed Special Advocates) for Douglas County has been a shining beacon of hope for children who are involved in the child welfare system and may have experienced abuse or neglect. CASA for Douglas County has dedicated itself to amplifying the voice of the most vulnerable members of our community, and our impact has been nothing short of extraordinary.
A History of Advocacy
CASA for Douglas County was founded in 1998 with a simple yet profound mission: to provide trained volunteer advocates who would serve to amplify the voice for children impacted by the child welfare system. In early 1998, retired Judge Wadie Thomas, met with Judge Gendler to discuss starting a CASA program from scratch. After additional meetings, including George Scurfield and Nancy Wilson, founding Executive Director at CASA for Douglas County, the CASA for Douglas County program was formed over the decades, this organization has grown, evolved, and touched countless lives of children.
An Amplifier for Children's Voices
One of the most significant ways CASA has made a positive impact is by providing a lifeline for children caught in the complex and often overwhelming world of the legal system. CASA volunteer advocates, after extensive training, work tirelessly to ensure that the best interests of these children are at the forefront of every decision the court makes. For over 25 years, these volunteer advocates have often been the steady presence in the lives of these children and their families, offering support, guidance, and a genuine caring heart when it is needed the most.
CASA has empowered individuals from our community to become advocates for change. Prior to an assignment, volunteer advocates undergo comprehensive training, learning about the legal system, child development, and the unique challenges that children who have been abused or neglected may have experienced. This training equips volunteers with the knowledge and skills needed to make a real difference without judgement or bias. However, they have never been alone. The work of CASA volunteer advocates is supported by experienced Advocate Coordinators who guide them through their cases and offer support and additional training whenever it's needed.
Children who are involved in the child welfare system often face immense instability in their lives. CASA volunteer advocates step in to provide a sense of consistency and stability while working collaboratively with others involved in their cases. They build strong, trusting relationships with the children and their families, ensuring that their voices are heard in court and that their needs are met. By advocating for the children's well-being, CASA volunteer advocates help create a foundation upon which these young lives can be rebuilt.
CASA is of, and for, the Community
CASA volunteer advocates work tirelessly to ensure a child's best interest is being met by identifying and addressing risks to the child's safety and well-being and identifying supportive people in the child's life that CASA can work with to promote safety and well-being for the child during their time in care. These volunteer advocates ensure appropriate physical and mental health assessments and services are completed, and the child's needs are understood by the court, family, and everyone involved in their case through a trauma-informed approach. Not only that, but they work with the appropriate groups to verify educational assessments are completed, and that educational supports are put in place to facilitate better outcomes for children and their families.
CASA volunteer advocates stay by a child's side throughout the case, advocating first for reunification when safe and possible. If reunification is not safe and possible, they will advocate for the child to be placed or adopted by relatives or close family friends. If that is not possible, CASA volunteer advocates will work towards determining a safe way for a child to continue their lives once they age out of the child welfare system. No matter what, CASA volunteer advocates will keep in contact with the child and family support network until the case closes so that everyone continues to put the child's best interest first.
Studies have consistently shown that children with CASA volunteer advocates are more likely to find safe and permanent homes. They perform better in school, receive the necessary medical and mental health services, and ultimately have a brighter future. CASA's work has a direct and tangible impact on the lives of these children. It is a testament to the effectiveness of their advocacy and the transformative power of caring individuals.
Beyond their work at an individual level, CASA for Douglas County has been a powerful advocate for systemic change. For over 25 years we have worked collaboratively with local agencies, and other stakeholders to improve the child welfare system, leading to better outcomes for all. CASA's advocacy extends beyond the courtroom, creating ripples of positive change throughout the community and the entire child welfare system.
Looking Ahead
As CASA for Douglas County celebrates 25 years of dedicated service to our community, it is evident that the CASA volunteer advocates' impact is immeasurable. Thousands of children have been given a chance at a brighter future because of this organization's unwavering commitment.
However, the need for CASA's advocacy and support continues, and as we look to the future, it is our collective responsibility to ensure that CASA continues to thrive. Whether through volunteering, donations, or advocacy, we can all play a role in shaping a better future for the children who need it most. CASA's legacy is a reminder that positive change is possible when we unite for a common purpose.
Conclusion
CASA for Douglas County's 25-year journey has been a testament to the power of community, compassion, and commitment. Our positive impact on the lives of countless children cannot be overstated. As we celebrate these accomplishments, let us also renew our commitment to the mission of CASA, ensuring that every child has the opportunity to grow up in a safe and loving environment. Here's to 25 years of making a difference and to many more years of impacting our community for the better.
"As CASA for Douglas County continues to serve children impacted by the Child Welfare System, it is important to remember, children deserve to be heard. Nelson Mandela said it best, 'History will judge us by the difference we make in the everyday lives of Children.'" Executive Director, Kimberly C. Barnes.
Thank you all for your support of CASA for Douglas County's mission. We still have work to do, and for the good of the children who need our services, the work will be done.